RSM MBA Armada 2022
23rd July 2022

-

30th July 2022

€745,00 – €1.010,00
The event
It's official! It's the RSM Sailing Club's 12th year of the biggest summer social event in the international MBA community. Join us for The RSM MBA Armada.
This event brings RSM MBA students & alumni together with other MBA networks for a sailing adventure through the Aegean Sea. Attendees of the RSM MBA Armada will bond, hang out and have fun in one of the most beautiful locations worldwide.
We'll sail from island to island, admiring unbelievable landscapes and swimming in crystal-clear blue waters in the Central islands of Greece. This week-long trip will include different islands, where you'll be living in the rhythms of the unique Greek summer: exploring isolated beaches, mingling with locals and enjoying Mediterranean cuisine.
Location
The wonderful Gulf of Argosaronikos.
Key Locations
Airport: Athens
Marina Flisvos, Poros, Hydra, Spetses, Aegina
Program
Program will be announced 2 weeks before the starting of the event. Locations are defined above.
We're still working on a mind-blowing itinerary. Stay tuned!
---
Program
Provisional program:
Route is provisional and will be updated in the week before starting the event
| | | |
| --- | --- | --- |
| Day | Departure | Arrival |
| | | |
| Saturday, July 23rd | Optional: Acropolis Sightseeing and Welcome Party | Flisvos |
| Sunday, July 24th | Flisvos | Poros |
| Monday, July 25th | Poros | Hydra |
| Tuesday, July 26th | Hydra | Spetses |
| Wednesday, July 27th | Spetses | Spetses |
| Thursday, July 28th | Spetses | Aegina |
| Friday, July 29th | Aegina | Flisvos |
| Saturday, July 30th | Flisvos | Flisvos Checkout Flights |
Accommodation
Celebrations begin in Athens on Saturday for whoever wants to arrive the night before. Optional: Tour guide for Acropolis and Rooftop Welcome Dinner and Party.
We suggest you arrive at 14:00 on Saturday, the 23rd of July; We will load up the boats on Marina Flisvos and sleep on the boats that night.
Arrival at Marina Flisvos after 4pm on the 29th. Participants can fly out of Athens anytime after Friday 29th 8pm. Boats will still be available for sleeping on the same night. Checkout early next morning
Boats:
A variety of boats will be provided, including Catamarans and Monohulls. Allocation will happen based on first come, first served. Catamaran tickets can be purchased separately.
Nightlife & Boat Parties: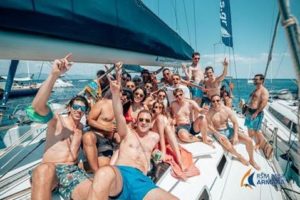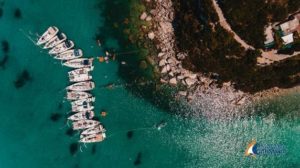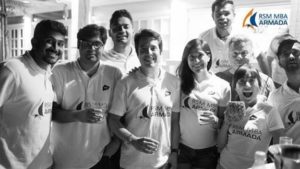 Expenses
Participation fees
Participation fees including:

linen sheets
pillows
bath towels
cooking gas
checkout cleaning
outboard

Pricing policy:

Male Early Bird Category Catamaran (until April 30th) €960 per person
Female Early Bird Category Catamaran (until April 30th) €960 per person
Male Early Bird Category Monohull (until April 30th) €745 per person
Female Early Bird Category Monohull (until April 30th) €745 per person
Male Regular Category Catamaran (from May 1st until July 1st) €1,010
Female Regular Category Catamaran (from May 1st until July 1st) €1,010
Male Regular Category Monohull (from May 1st until July 1st) €795
Female Regular Category Monohull (from May 1st until July 1st) €795
Fully refundable insurance deposit required prior to Check-In: 1800 – 3000 Euros per crew depending on the boat
Note
Individual or coupled participants will be matched by the Sailing Club to the best possible accommodations based on their selected boat category.
*As we make travel arrangements, we would like to make sure that any solo attendees may be paired in a room with someone of the same gender, if requested. Therefore, it is important for us to have this information with ticket purchases. However, we strongly recommend to come with your partner or friend so that there wont be matching conflicts with the rest of the crew.
Complete crews may also reach out for interest in a specific boat. If requests are available at the time of registration, we will do our best to make this happen.
Estimated Additional Individual Expenses
Skipper (including his meals)
€1400 Cash per boat
Boat 's Fuel & Water Expenses range
€40 – 80
Average two-way Air tickets to Athens Price (booking before end of March)

We will gather in Athens on Friday to begin the festivities and depart via taxi on Saturday morning, headed for Marina Flisvos. Please note for departing flights after the trip, the earliest departure by plane is on Friday evening (July 29th ) after 18:00 from Athens. Please email us for more information

€300
Average cost of Hotel accommodation in Athens p.p.
€50 – 60
Food expenses range
€150 – 200 
Docking fees (Half days we dock at anchor)
€20 – 30 per boat per day
Nightlife
up to the guests
COVID Testing: Self test before embarkation might be required.
Sign Up
Please read carefully.
Should you wish to pay via e-transfer directly on the RSM Sailing Club bank account, please before performing any transaction, please send us an email so that we can properly organize that.
If a bank payment is done without sending any email in advance, the RSM Sailing Club may reject the subscription.
The ticket is not refundable.
Only MBA students/alumni can participate to the events organized or sponsored by the RSM Sailing Club.

Our partner policy: Partners are welcome to the event, but we keep the maximum limit of 25% attendance for non-MBAs, as long as they are relatives to MBA participants. 
Tickets purchased by non-MBA members cannot be refunded! Please email us for any questions regarding this.
Should you need more information, please Email Us
Please read our Privacy Notice and Consent Form. Learn More.