King's Day 2022
27th April 2022

-

28th April 2022
The RSM Sailing Club goes to King's Day!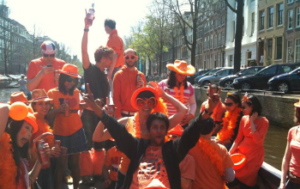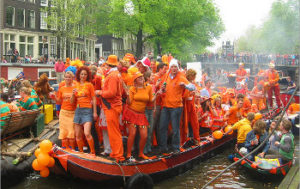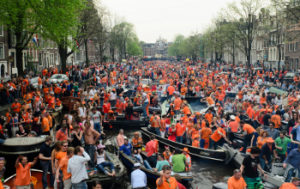 ---
Welcome aboard! RSM Sailing Club invites you to join us on this exclusive and fun social event on a boat in the city of Amsterdam!
King's Day (formerly Queen's Day) festivities invite locals and visitors to soak up Amsterdam's open-air fun. In the streets, canals, parks and everywhere in between, the city will be bursting with orange as Amsterdammers enjoy the biggest street party of the year.
Amidst orange-pride, live music, DJs, parties and a citywide street market, you'll find an electric atmosphere you will not want to miss!
RSM Sailing Club goes to King's Day and invites you to join us in this unique experience! Students will celebrate the King's day in Amsterdam ! Don't miss the opportunity to enjoy the day and the marvelous capital city of Netherlands along with your friends & MBA classmates, sharing a cruise for 3 hours through the canals. A great party with soft drinks, beer and wine and nice music will take place on the boat!
This is a great opportunity to experience with your MBA classmates, alumni, locals and visitors of Amsterdam's most attractive open-air celebration: parties in the streets, live music, DJs, citywide street markets around the canals, parks and everywhere in between… orange will be all around! Come and share with us on the for 3 hours (from 10:30 to 13:30) through the canals: soft drinks, beer, wine and nice music will take place on the boat! Only 70 tickets available!
---
Program
Meeting point: Amstel 51, 1018 DR Amsterdam
Cruise Time: The cruise will start at 10:30 exact, so please arrive at least 20 minutes earlier
---
Details
Ticket includes: King's Day canal cruise from 10:30pm to 1:30pm. Drinks included (soft drinks, beer, wine). Food will not be provided.
Early Bird (until Friday 8th) €65 per person
1st Release (until Saturday 16th) €75 per person
2nd Release (until King's Day) €90 per person
Guests on board : FTMBAers, EMBAs and RSM Alumni can be escorted by one paying guest. The ticket for guests are exactly the same (same price and benefits). RSM students or Alumni should purchase two tickets. Register with your RSM email when paying.
---
Security
During the boat trip, the skipper has the right to interrupt or cancel the trip when in his opinion intolerable or unsafe situations are or have been occurring. No trash can be disposed in the canals. Throwing glasses or any other things to the shores, even when thrown at first, can lead to the immediate cancellation of the trip or at least a final warning.
---
Sign Up
Please read carefully.
Before performing any payment, please Email Us 
The ticket is not refundable. Purchases that are not linked to a RSM email will not be accepted.
Only MBA students/alumni can participate to the events organized or sponsored by the RSM Sailing Club, exceptions considered.
If non MBA people buy tickets for the events, participation will not be allowed and the RSM Sailing Club will not refund the ticket, exceptions considered.
Should you need more information, please Email Us
Please read our Privacy Notice and Consent Form. By purchasing a ticket, you are agreeing with our Privacy Policy and Consent Form. Learn More.